Supplements for cats: Do your cats really need them?
There are many different supplements for cats that claim to offer health benefits. We will discuss the following popular supplements: taurine, vitamin C, omega 3s and probiotics. These four supplements are not necessary and only offer the potential for some health benefits, which may or may not be worth it.
Multivitamins, supplements, extra minerals - you're probably used to seeing them and even consider taking them yourself if you don't already. The question then comes up about your furry friends.
You start wondering if your cats need supplements. You may even question whether or not they're bad for them. So many questions! Let's start with the basics: what are supplements, and why do cats need them?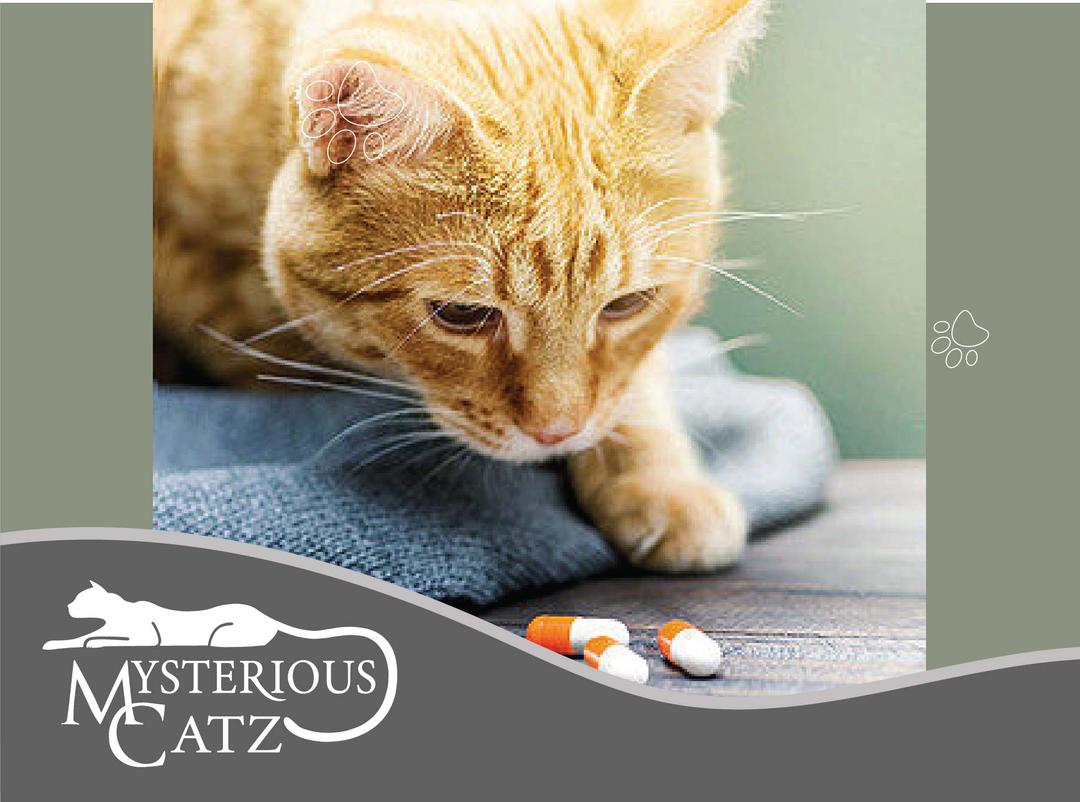 What Is a Supplement?
A supplement is a product that contains one or more dietary ingredients such as vitamins, minerals, and herbs.
It may also contain other ingredients such as amino acids (the building blocks of protein) and extracts from plants or animals. Supplements are used to improve the diet in people, or in this case, cats, that have a deficiency or have specific health needs.
Most also contain a blend of necessary nutrients like taurine, which is critical for cat heart health. Probiotics are great for improving or maintaining digestive health.
Omega fatty acids are also sometimes given as a supplement for cats suffering from arthritis or atopic dermatitis. B vitamins can also encourage red blood cell production, while electrolytes can help with hydration.
When Does Your Cat Need a Supplement?
Your vet might prescribe them for a number of reasons: 
to help with a health condition
to improve the overall health
to prevent health problems
It's worth noting that most cats don't need supplements because they get their nutrients and minerals from the food they eat. However, there are a few cases where supplements can be helpful
What Types of Cat Supplements Are There?
There are two types of supplements: those that provide a nutrient and those that provide an enzyme or hormone. The most common type of supplement is the vitamin, and there are many different types of vitamins for cats. Minerals and herbs are also common supplements for cats, as are probiotics and antioxidants. 
Which ones work the best? There are five main categories of supplements that your cat may need, which include:
-Dietary Supplements provide specific nutrients missing from its diet.
-Antioxidants to help protect the cat's cells from free-radical damage.
-Digestive Enzymes facilitate the digestion of food by breaking down substances in food that are not fully digested.
-Immune System Boosters to help keep the cat healthy and ward off illness.
-Health Tonics provide a variety of benefits including supporting organ function, promoting gut health, and reducing inflammation.
Cats who eat primarily dry food might not get enough moisture in their diet leading to health problems down the road. In some cases, your vet may decide that a water-soluble vitamin or electrolyte mix is helpful in keeping your cat healthy.
How to choose the best supplements for your cat
Another situation where supplements can be helpful is when a cat has a health condition that affects its ability to absorb nutrients. For example, cats with kidney disease often need supplements to make sure they're getting all of the nutrients they need.
Other examples of health issues where supplements may be needed for cats include:
Arthritis - joint supplements for cats may be applicable here
Cancer - natural supplements may be suggested by your vet depending on the situation
Allergies - sometimes treatable with immune supplements for cats
Dental problems - dental supplements for cats exist for felines with dental issues
Irritable bowel syndrome - digestive supplements for cats are sometimes needed for IBS
Manufacturers also have cat food products designed to address the needs of kittens, adult cats, and seniors, so you'll always want to check with a vet to see if supplements are needed.
The vet will take into account health conditions, diet, and lifestyle when recommending vitamin supplements for cats.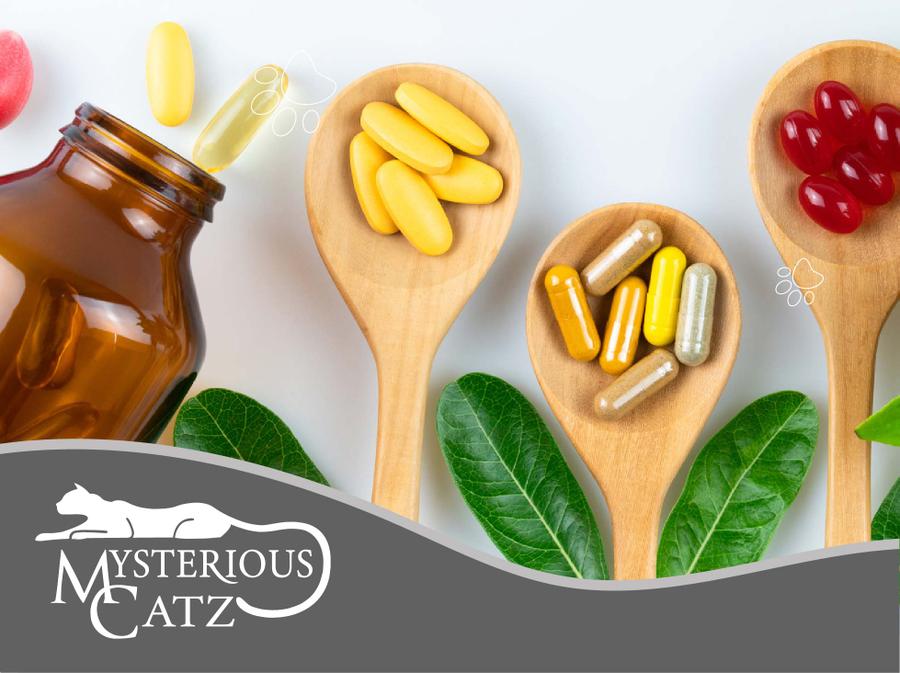 FAQs about cat vitamins and supplements: How to find the right one for your pet?
So how do you know you've got the right vitamin and mineral supplements for cats? What does the science say about their effectiveness, and which ones work the best?
Commercial pet foods are designed to meet your cat's nutritional requirements, while the human diet can vary.
Cats eat the same food every single day and pet food manufacturers try to balance this daily diet by keeping it consistent. As a result, food supplements for cats aren't always a necessary thing.
Not all food for pet animals is the same, and certain brands are the best. In fact some brands have better nutritional formulas.
These brands will be able to identify those ones by reviewing their feeding trials. Few companies do these trials but they are critical to a complete diet plan.
Life Stages of Cat Nutrition
It is important to note that pet food manufacturers also offer cat food based on life stages. Some of these stages differ in needs while others, such as pregnant or nursing cats, do not. This ensures complete nutrition and healthy living for all ages and life stages a cat or kitten has.
Few daily supplements for cats are needed as most are equipped with everything that's vital for their health in the form of prey.
The only answer to that question is a vet, so it's always best to consult the vet first before attempting to supplement your cat.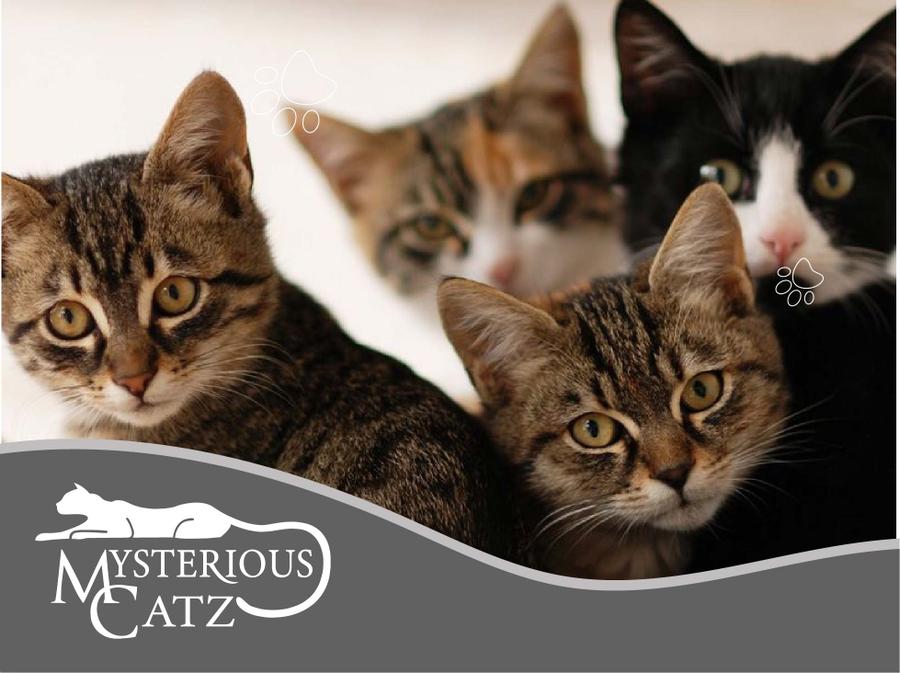 Best Supplements for Cats
The truth is that while most cats don't need supplements, it depends on your cat's diet and overall health. If you are ever unsure about whether your cat is getting all of its nutritional needs met, you should speak to your vet.
Your vet will be able to tell you if your cat is in need of a supplement.
Supplemental needs vary on a case-by-case basis, so it is critical to consult your vet before starting health supplements for cats. If you're not careful, you might give too much or something or unintentionally cause other issues.
Specific health issues require supplements, but the only one who can give your cat a proper evaluation is your veterinarian.
The Importance of Discussing Supplements With Your Vet
Vet advice is the most critical information to take away. It is reasonable to assume that if your furry friend is generally healthy and has a good diet, you may not need nutrition supplements for cats; however, supplements may be necessary if there are health concerns or the diet is not ideal. The types of supplements and the amount of each nutrient a cat needs vary based on different issues.
This is why it is essential to consult with a veterinarian before starting supplements for your cat. A vet will be able to recommend the best course of action specific to your pet's individual needs.
If the need arises, such as with kidney disease or other health issues, your vet can prescribe a healthy combination designed to keep your cat safe and healthy.
The Bottom Line
Supplements are not always necessary for cats if they have a healthy diet. But there is usually some type of supplement out there to meet the specific needs of your cat. An example of this would be supplements geared towards particular life stages.
Remember, most cats do not need supplements. However, there are some instances where they can be helpful. If you have any concerns about your cat's diet or health, speak to your veterinarian about whether a supplement might be right for them.
Supplements can help ensure that your cat is getting the nutrients they need each and every day.
Have anything in mind? Leave a Comment!