The Different Kinds of Human Foods That Cats Eat ... and What You Should Avoid
At times, it can be tempting you feed your cat human-food snacks and treats. Some people may routinely give leftovers to their pets too. While some human foods are fine for cats, with some actually being beneficial in moderation, there are others that are harmful to your beloved kitty. It's important that your cat is getting a balanced nutritional diet for optimum health. So, what human food can cats eat, and which foods should you avoid?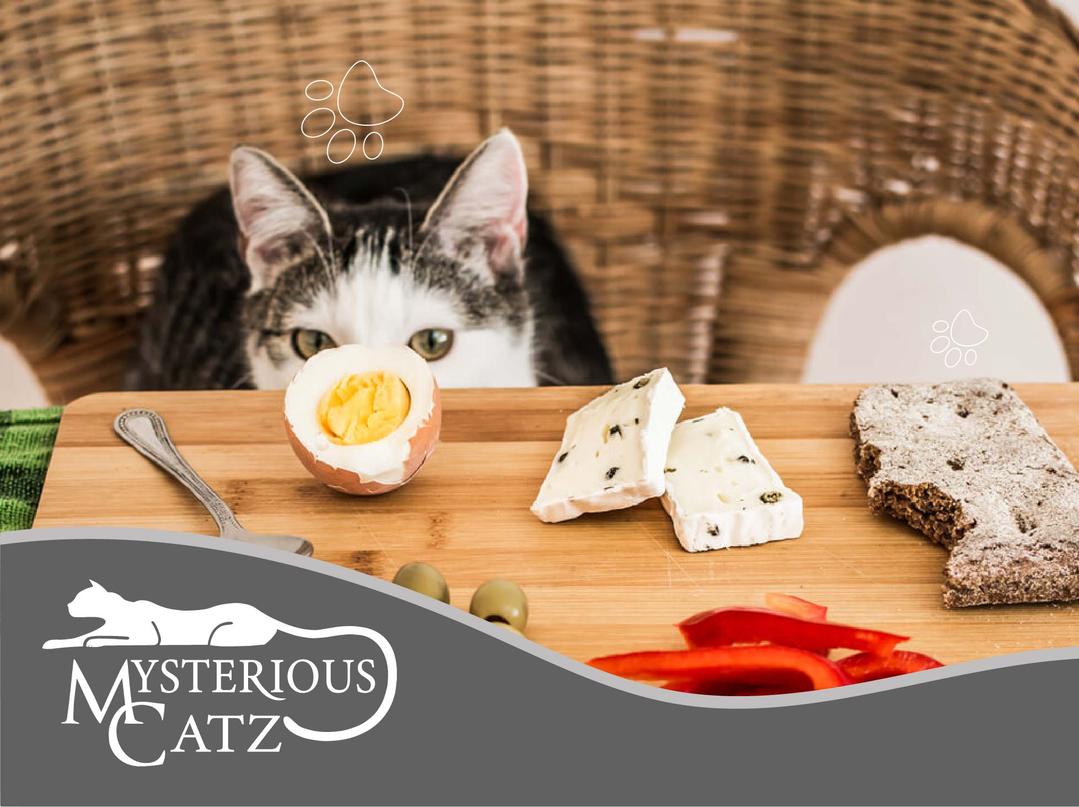 What can cats eat?
Cats are, by nature, carnivores, meaning that they need meat to survive. They have higher protein requirements than many other animals and need nutrients only found in meat to survive. Instinctive hunters, in the wild cats stalk and catch their prey to dine on.
While pet cats don't need to hunt for their meals, their regular diet should mainly center around protein-rich meats.
Meats
In the wild, cats prey on small rodents, such as mice, voles and shrews, small rabbits and birds. Depending on their geographic location and local availability, cats may also sometimes catch insects, small reptiles and snakes.
Commercial pet foods typically include various meats, such as chicken, lamb and beef, as well as various organs.
Fish
Some wild cats may occasionally catch fish to eat. You may have noticed your pet gazing longingly into a fishpond or aquarium; seeing brightly colored fish swimming through the waters often stirs their hunting instincts.
Pet foods make use of different types of fish to keep your cat healthy, for example: salmon, mackerel, pilchard and whitefish. It's also common for pet foods to combine several varieties of fish.
Whole grains
While cats don't need to consume grains to survive, many pet foods include whole grains, such as rice, wheat, oats and corn. Whole grains are often used to bulk up foods and act as a filler, though they can also be a good additional source of protein.
Proteins in whole grains are easier for cats to digest and can enrich vital nutrients, particularly if your cat is underweight.
Many cat owners notice their kitty occasionally chomping on fresh green grass too. Vets believe this may provide a boost of folic acid for cats, as well as acting as a mild laxative and a natural way of cats expelling indigestible foodstuffs from their gut.
What human food can cats eat?
If you want to share your human food with your cat, there are various types of meat and fish that your pet will be happy to much on. Surprisingly, there are also several types of fruits and vegetables that are harmless for your cat as a treat.
Types of human food cats eat
Now you know the types of food cats eat, namely meat, fish and some whole grains, and you know that cats can enjoy some human foods. But what are some examples? What are the types of human food that you can safely share with your much-loved pet?
Types of human food cats like
These are some examples of human foods that you can safely give to your cat.
Meat and Fish
Most cooked meats, including most organs, and poultry, such as beef, lamb, chicken, turkey and pork, are good for your cat to eat.
Avoid deep-frying meats, or using too much oil, when you plan to share with your cat. Boiled, grilled or roasted meats are healthier for your cat.
Cats enjoy eating most types of cooked fish too, including salmon, sardines
, shrimp and mackerel. Fish contains lots of Omega-3 fatty acids, which are great for your cat's eyes and overall health.
Melon
High in vitamins A, B and C, small pieces of melon, including honeydew, cantaloupe or seedless, can be good snacks for your cat in moderation.
Oatmeal
Cats may sometimes enjoy a small amount of unsweetened oatmeal made with water. Oats are brimming in fiber and iron, and also contain some beneficial proteins.
Apples
Apple flesh can be a sweet treat for cats. As with humans, however, make sure to remove any seeds, stem and leaves before consumption as they contain harmful cyanide.
Pumpkin
Soft, mashed pumpkin is full of nutrients and fiber. It can help your cat to pass furballs and prevent constipation.
Celery
Crunchy and full of water, celery has vitamins and fiber and can be good for cats suffering from constipation.
Bananas
Small pieces of banana can be a tasty treat for cats who enjoy sweet foods. Peel bananas before feeding to your cat. Don't feed to much though, as bananas are high in sugar.
Cooked Eggs
While not as healthy as meats and fish, cooked eggs do contain some protein that is needed by cats. Try scrambled, poached or boiled egg for your cat.
Berries 
Your cat can safely nibble on washed blueberries and strawberries. These lower-sugar fruits are also rich in antioxidants.
Green Beans
Sodium-free green beans contain protein and iron. They are a low-fat option, so they can be a good way to bulk out meals for cats who need to lose a bit of weight.
What can cats not eat?
Always check before introducing new human foods to your cat, as some products can be toxic to your pet. They are not types of food cats eat in the wild and should not be part of your domestic feline's diet. Ever. Here are some items to avoid.
Fruits
Raisons and grapes are poisonous to cats. They can induce kidney failure.
Cherries and plums both contain cyanide, a poison for cats.
While healthy for their human companions, avocadoes are also toxic for cats. Citrus fruits, such as oranges, lemon, limes and grapefruit, also contain substances harmful to your cat's health.
Vegetables
Green tomatoes will make most cats sick. Cats also cannot eat any kind of mushroom.
You should never feed your cat onions, chives, garlic or leeks. These all contain thiosulphate, which is a poison for cats. These foods can cause anemia, as well as diarrhea and vomiting.
Meat and fish
You should avoid feeding your cats raw meat and fish. Although cats eat raw meat in the wild, human food meats, like chicken and beef, are different to the meats, like rodents and small birds, found naturally in a cat's diet.
Remove bones from meat and fish to reduce choking risks.
Tuna, while occasionally fine as a treat, should not be given to cats in large amounts. It definitely should not be part of their regular diet. It contains mercury, which can build up to toxic levels in your cat.
Also, the strong smell and taste, which many cats love, can cause your cat to become addicted and not eat other foods. This leads to them missing out on vital nutrients.
Other foods
Most cats are lactose intolerant and should not, therefore, be given large amounts of dairy products. This includes milk, cheese, yogurt and ice cream.
Alcohol and caffeine are both very harmful for cats and should never be given to them.
Nuts have a high fat content and can lead to cats becoming unhealthily overweight.
The artificial sweetener of xylitol is toxic to cats. It is found in many sugar-free candies. It is also found naturally, in small quantities, in raspberries.
Dog food, while not a human food, should not replace a cat's regular balanced diet. It doesn't contain the nutrients essential for a cat's heath.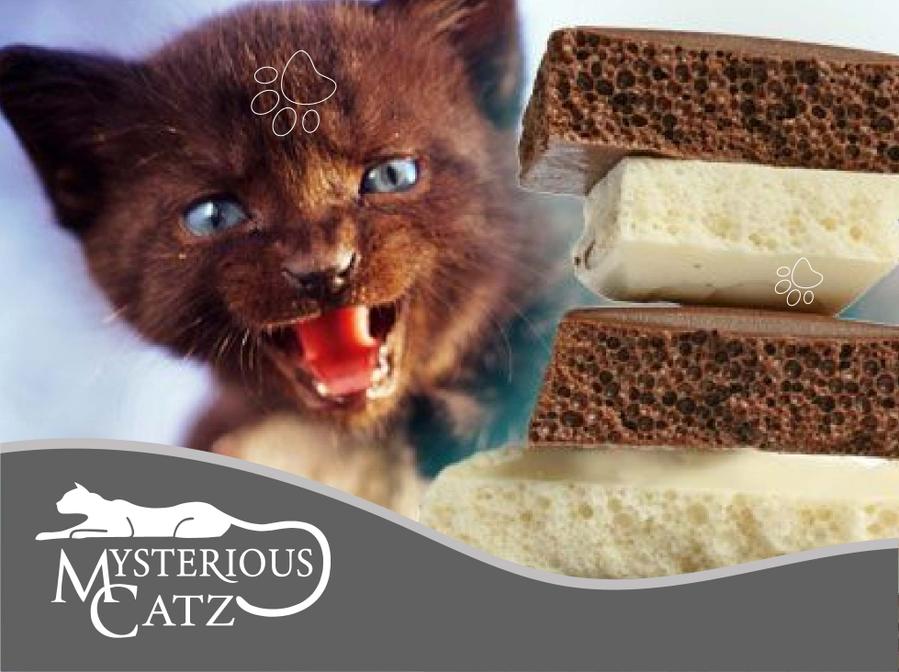 Can cats eat chocolate?
Although you may be tempted to share your snacks with your pet, chocolate is very harmful for cats. Even small amounts can make your fury friend ill.
Chocolate contains a substance called theobromine as well as caffeine, both of which are harmful to felines.
Chocolate can cause diarrhea and vomiting in cats, can bring on seizures and can raise a cat's heart rate. In severe cases, chocolate can cause the heart to stop beating.
Have anything in mind? Leave a Comment!