When to Switch From Kitten Food To Cat Food
Why It's Important to Switch to Adult Cat Food
When you first become a pet parent to a kitten, it is going through a phase of rapid growth and development, exactly like human babies do. The life stages of cats are;
Rapid Growth Stage (2-6 Months)
Adolescence Stage (6-12 Months)
Adult Stage 12 months and beyond
Kittens have high energy and nutrient requirements during their first phase of life and kitten food is formulated to support this. Most cats take 10-12 months to grow to adult size. There is an exception for larger breed cats which can take up to 18 months to mature. When kittens reach adulthood and have stopped growing, they have lower energy and nutrient requirements. At this point, they no longer need kitten food which is packed full of nutrients to support growth. If an adult cat continues to eat kitten food it is likely to take in more energy than is required which will result in weight gain. Nutrition defects can also occur from an overdose of nutrients.
What Age Should I Change My Cat's Food?
Its recommended that kittens are on a growth-formulated diet until they have reached 90 % of their adult weight. In general, kittens reach this milestone at 10 - 12 months of age.
This is when you should start looking at making the switch to adult cat food. Larger breed cats take longer to develop, around 18 months. It's advisable to consult your vet if you have any concerns about your specific breed of cat.
What Is in Kitten Food?
Kitten food is energy and nutrient-dense, tailored to the kitten's nutritional needs. Kitten food will have a higher fat content than adult cat food. The nutrient profile is also higher, with omega3 fatty acids stimulating brain and cell function and calcium and phosphorus for bone development.
Kitten food is also formulated with a high energy content because kittens have smaller mouths and stomachs than adult cats and they struggle to consume big quantities of food initially.
This is why it's useful that kitten food is energy-dense, so kittens can acquire energy for growth even if they are having small feeds of pet food.
Can you feed a 6-month-old kitten adult cat food?
At 6 months kittens are just approaching the adolescent stage. This lasts from 6-12 months. Here their rate of growth begins to slow and activity levels can start to decline.
They will start to look more like adult cats at this phase. But they are still growing and still need high-energy kitten food, so it is not recommended to switch to cat food just yet.
At 6 months you may notice your kitten starts to eat fewer but larger meals throughout the day.
When Can Kittens Eat Cat Food?
Kittens can eat cat food at any time but it's best for your kitten if you make the transition to cat food once your kitten is fully grown.
This should be at around 12 months old. To give your kitten its best start in life it is best to nourish your pet with kitten food until it is 1-year old so that it grows healthily and receives all the nutrients needed for optimal development. Once the kitten is at adult body weight or 90% there, you can change to premium cat food and keep your pet healthy on a weight-maintenance plan.
During a cat's life, they require double the amount of energy on a per-pound basis when they are kittens, compared to their adult diet requirements. Thus kitten food is only necessary for the initial two life stages.
What are other Signs it's Time to Change My Cat's Food?
You will notice your cat has reached the adult stage and is ready for a maintenance plan at 12 months old. Your cat should be less active at this stage, although still likely to be playful, cats at this age have stopped most of the kitten behaviors from the development months.
They are likely to want to eat less frequently at this age but can consume large meals as their stomachs and mouths have grown and their teeth have developed. If you notice weight gain, this can be a sign that it's time to go onto the maintenance plan that cat foods will provide.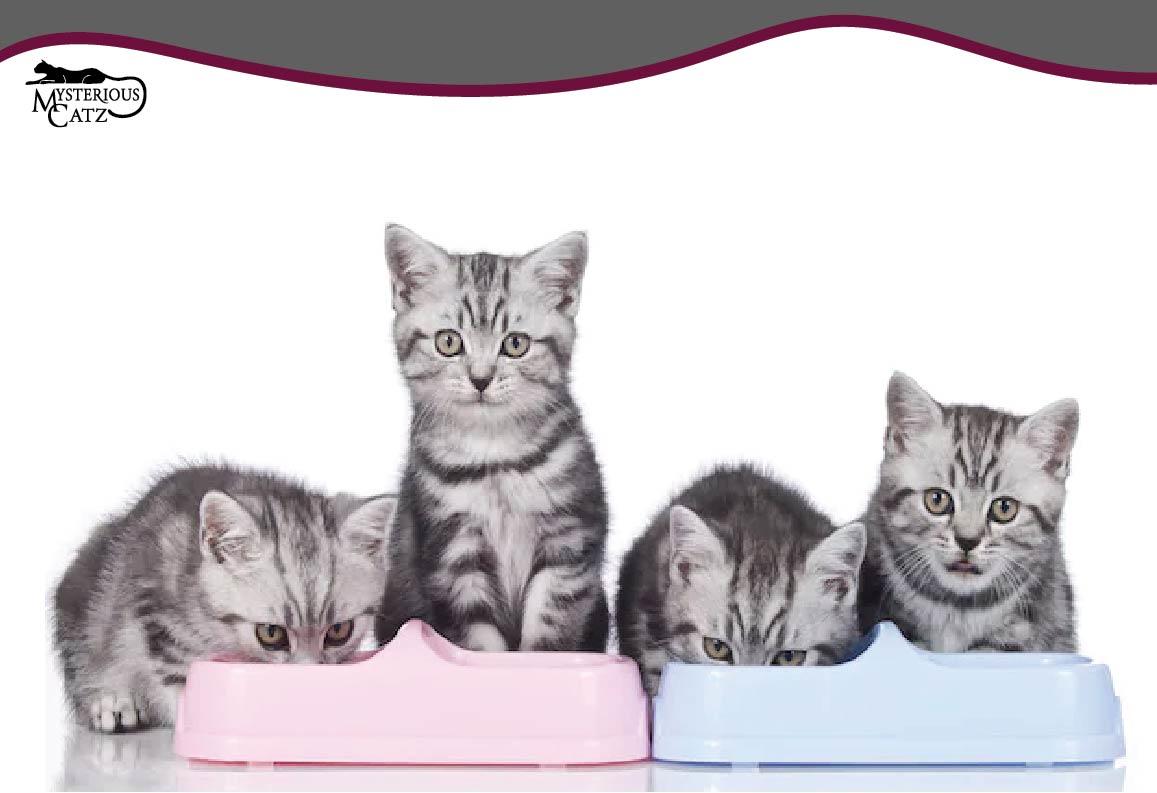 What Nutrients Does My Kitten Need?
Kitten nutrition is all about fueling your kitten with energy for growth. This comes in the form of proteins and fats in their food. Kitten's food must also deliver nutrients to support development. Good examples are;
Omega fatty acid DHA aids with vision and brain development.
Vitamins and minerals support a kitten's immune functioning and development.
Calcium and phosphorus will support bone growth.
How Should I Transition My Kitten to Adult Cat Food?
This process must be done gradually by cat owners to allow their cat's digestive system to get used to the new food. Our pet's digestive system is home to billions of bacteria that keep the gastrointestinal tract healthy. Pets that eat the same diet every day develop microbes to digest that specific diet. If their diet is suddenly changed the gut does not have time to adjust and this can result in stomach issues for your pet.
Its recommended to transition over 7 days as outlined below;
Day 1 and 2; add 1/4 of the new diet to 3/4 of the old diet
Day 3 and 4; add 1/2 of the new diet to 1/2 of the old diet
Day 5 and 6; add 3/4 of the new diet to 1/4 of the old diet
Day 7; fully transition to the new diet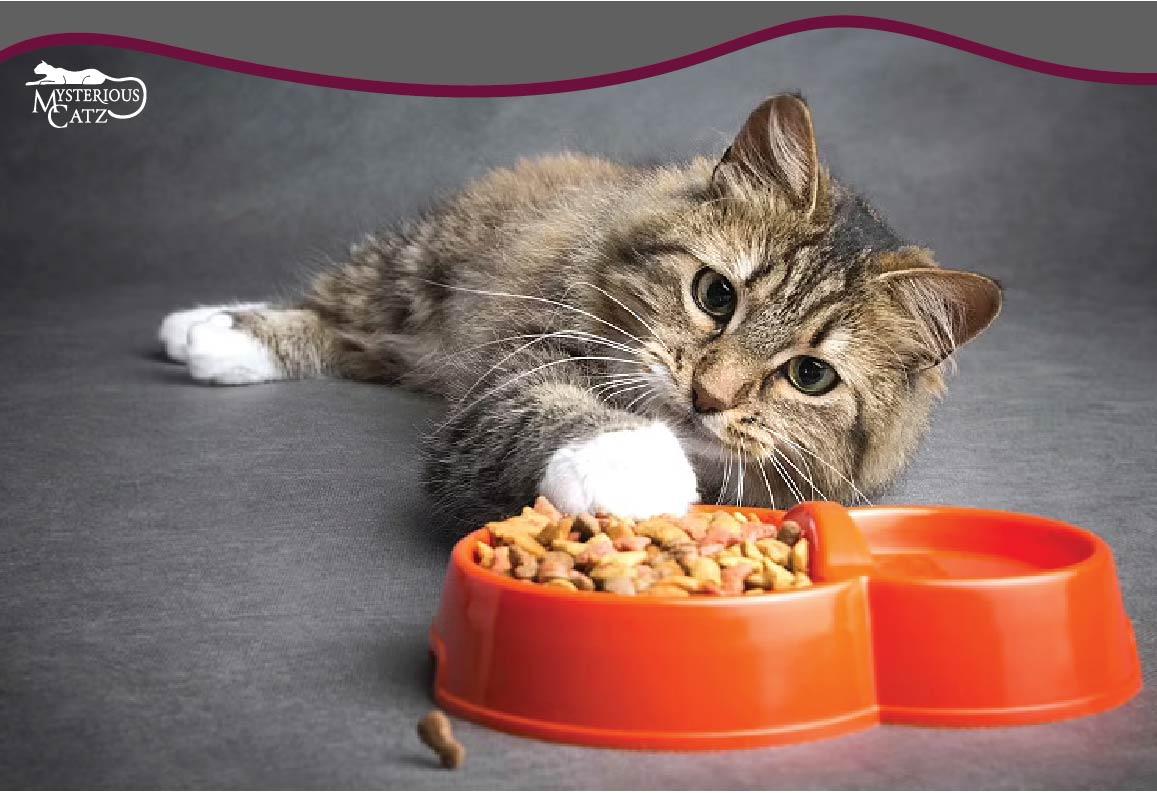 Have anything in mind? Leave a Comment!